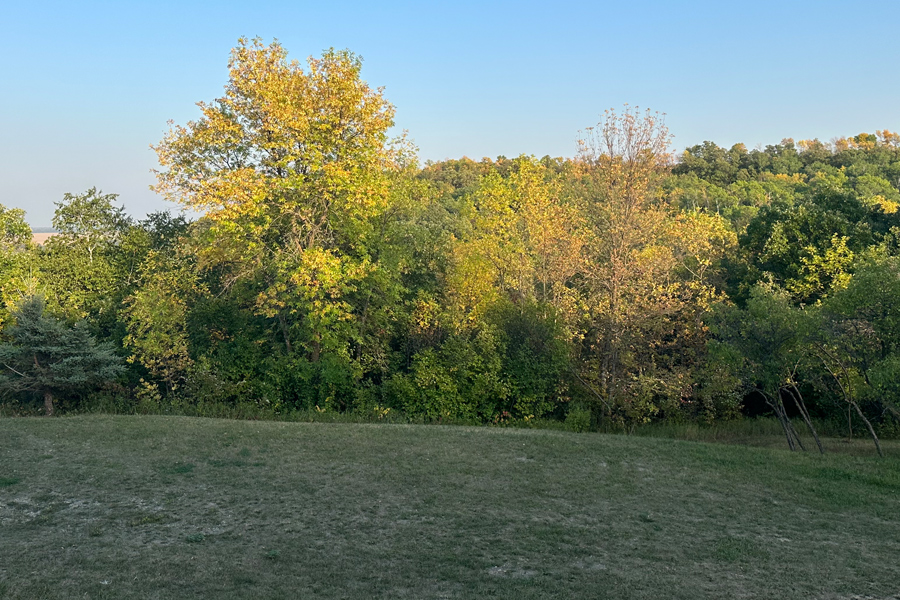 Prime Pembina Gorge Property
36.54 Deeded Acres in North Olga Township
Timed Online Auction:
Opens: Tuesday, October 24, 2023 at 1:00 PM
Closes: Wednesday, October 25, 2023 at 1:00 PM
LEGAL DESCRIPTION
Cavalier County, North Olga Township
NE1/4NW1/4 of Section 16, T162 R57, less 3.46 acre tract in southeast corner (see attached legal description and survey).
LAND LOCATION
From the intersection of Pembina County Highway 55 and North Dakota Highway 32 in Walhalla, 4.3 miles south on Highway 32 and 4.1 miles west on 100th St. NE will place at the northeast corner of the property. From the intersection of North Dakota Highways 5 and 32, 7 miles north on Highway 32 and 4.1 miles west on 100th St. NE will place at the northeast corner of the property.
BROKER'S COMMENTS
Located in the beautiful Pembina Gorge southwest of Walhalla, this property has a stunning 156 feet rolling elevation change from 1,452' to 1,296'! This mature, heavily wooded property has a small creek and is a wonderful wildlife habitat for elk, whitetail deer, rough grouse, turkey , and other small game. It's well suited for the outdoorsman, weekender, or a new residence. This property is located in Elk Hunting Unit E1E.
PROPERTY INFORMATION
36.54 deeded acres
Includes 1,200 square foot home with three bedrooms built in 1950. Outdoors there is one 12' x 12' shed building in approximately 1970. Well water. Cavalier Rural Electric. Phone and fiber optic to house – United Communications. House has received the following recent updates. New electrical: panel, electric heater, heating vents, thermostat, outlets, and switches. New bathroom: flooring tub, toilet, and sink. New windows: back bedrooms, kitchen, and bathroom. New kitchen: flooring and cupboards.
2022 DISCOUNTED REAL ESTATE TAXES
$354.45
RESOURCES ON PEMBINA GORGE
North Dakota Tourism
North Dakota Geographic Information Systems – Elk Ranges
Walhalla, North Dakota Features
North Dakota Parks and Recreation
Disclosure: Information gathered from sources deemed reliable. Acres & Shares, LLC does not guarantee its accuracy. Interested Buyers should complete personal due diligence regarding the property. Maps are for visual aid and the accuracy is not guaranteed.